Gather in person at one of our campuses
We are asking you to complete an RSVP form to let us know which service you will be attending. You can register beginning the Wednesday before each weekend. The purpose of registration is to let us know which service time you will be attending. You can register any time up until the service start time.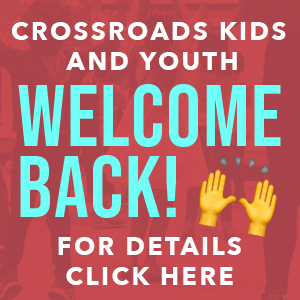 *The Mayor of Evansville has extended his request that face coverings be worn in public and in all public gatherings. We ask that all who worship with us on campus this weekend wear facial coverings, including during the services. There are some exemptions to the Mayor's directive. Children under 6 years of age and people with breathing problems are not required to wear facial covering.
Let us know you'll be here!
Adults and families worshiping together.
Adults, students (Grades 6-12) and children
Parents: You may want to continue worshiping together as a family in our Worship Center and not participate in our Crossroads Kids programming, if so, you can register your entire family below.

RSVP HERE
---
Families with children participating in Crossroads Kids (Nursery-Grade 5) programming.
Parents: You can register yourself and your children on the same RSVP form!
Choose your service time and let us know you'll be here!

9:00 AM - RSVP HERE 11:00 AM - RSVP HERE 5:30 PM - RSVP HERE
These RSVP forms will open each Wednesday, prior to our weekend services, and be available for you to let us know which service time you and your family plan to attend. The form will close when we have reached capacity in our worship spaces.
Thank you for helping us keep each other safe and healthy during this time of recommended social distancing.

*
We are asking that anyone with signs of illness or exposure to COVID-19 in the past 14 days, remain home and join us for one of our online services.
---
Service Times and Locations
NEWBURGH CAMPUS
Sundays at 9:00 AM, 11:00 AM and 5:30 PM
(RSVP available up until each service start time)

WEST CAMPUS
Sunday at 10:00 AM, Community Worship Service-Eleventh Avenue Park
(RSVP available up until each service start time)

ONLINE CAMPUS
Sundays at 9:00 AM, 11:00 AM and 5:30 PM
---
Things you need to know...
At each campus, our main doors will be open 20 minutes before service start times. Details will follow on which of our Newburgh campus doors will be open. Our West campus Main Entrance doors will open for entering the building. At our Newburgh Campus, please park in our South Parking lot. At our West Campus, please park as usual and look for entrance signage!

Facial coverings are highly recommended.

(We also have areas at each campus that provide extra protection.)



Our staff, leaders, and volunteers will be wearing facial coverings.

Signage throughout our building will direct foot-traffic flow and help maintain social distancing. Entrances and exits will be clearly marked.

Our Worship service length will be limited to 55 minutes to allow for ample cleaning and traffic flow.

There will be no Children's or Youth programming. (We are working on a plan to resume based on our governor's recommendation for schools.)

Beverage/Snacks will not be available at this time.

Families (including young children) are welcome to worship together.
---
Important Acknowledgement
We have taken enhanced health and safety measures––for you, our guests, church family and friends. You must follow all posted instructions while visiting Crossroads Christian Church.
An inherent risk of exposure to COVID-19 exists in any public place, where people are present. COVID-19 is an extremely contagious disease that can lead to severe illness and death.
According to the Centers for Disease Control and Prevention, senior citizens and guests with underlying medical conditions are especially vulnerable.
By visiting Crossroads Christian Church, you voluntarily assume all risks related to exposure to COVID-19. Let's help keep each other healthy and safe.